This week Friday's Fancies on
Long Distance Loving
suggested dressing yourself in an outfit that resembles you best. I'm a northern Michigan girl through and through, so it only makes sense that dressing myself in an outfit that's typically me would most definitely include comfortable jeans and cozy winter boots. I feel most at home in a winter hat and cozy boots, so that's exactly what I chose first for this week's outfit. I topped it off with a couple pops of neon to bring some brightness to the grey winter days.
sweater
|
jeans
|
earrings
|
hat
|
boots
Northern Michigan is in my heart this time of year, because it's the perfect setting for Christmas. Not to mention my parents still live there, and it's also the place where I formed many of my most favorite Christmas memories. Who knows, maybe I'll slip on my winter boots and a cozy sweater just for fun this winter and pretend that I'm there....
...
Christmas time in Petoskey, Michigan
...
This song is just because... I like it.
thanks for viewing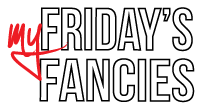 * * to see more of my past Friday's Fancies posts you can
click here
* *